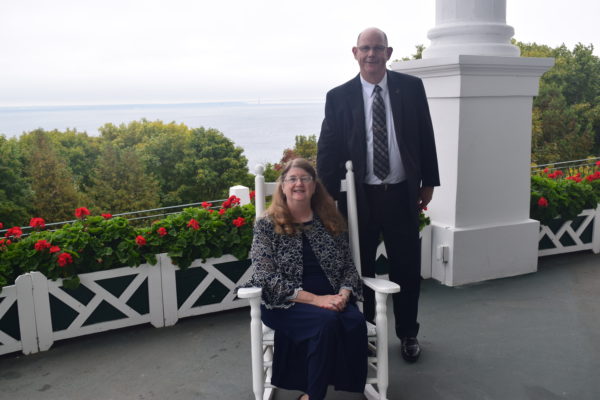 Dear Praying Friends in Christ,
Happy Spring time to all of you.  We finally had a little time to give you an update of how things are going.  God has been so good and faithful to us.  Our goal this year is to see the Word of God convict hearts more than ever.
Our Southern preaching tour went very well.  I preached in eight churches all together.  Our tour began in the panhandle of Florida. I even had the opportunity to be on the radio. What a blessing to share with thousands of people helpful ways to learn scripture!
We then traveled to southern Alabama to three more churches. One of those churches had us preach a four-day revival meeting. God really moved among the people and we had visitors for every service.
Our travels then took us to mid-Florida to the city of Ellenton, near St. Petersburg.  It was nice and warm there!  Once again, the Word of God convicted the hearts of the people.
Afterwards we traveled back to the panhandle and finished our tour in Crestview with a four-day mission revival conference. Everywhere we went, we saw a conviction and desire to learn the Bible and allow it to order the steps of life.
Three days after returning from our southern tour we traveled to Indianapolis, Indiana for a four-day train revival meeting.  Afterwards we traveled to Wisconsin twice, and to a church not far from home.  As you can see, we have been very busy!
My blood test came back normal, thank the Lord.  The doctor said I need to donate some blood every two months.  The Red Cross will be happy about that.  Mary is doing well and wants to lose 50 more pounds this year. Pray with us that she meets her goal, and that God keeps us both healthy.
We are looking forward to the rest of this Spring with anticipation of what God will do. We will be traveling to South Dakota, Tennessee, Michigan, and Pennsylvania in the next few months.
Please pray that the Lord will continue to supply our needs as we travel to churches, and for our safety.   What a privilege it is to serve Him presenting our ministry and getting people back into their Bibles!    
In His Service,
David and Mary Barker