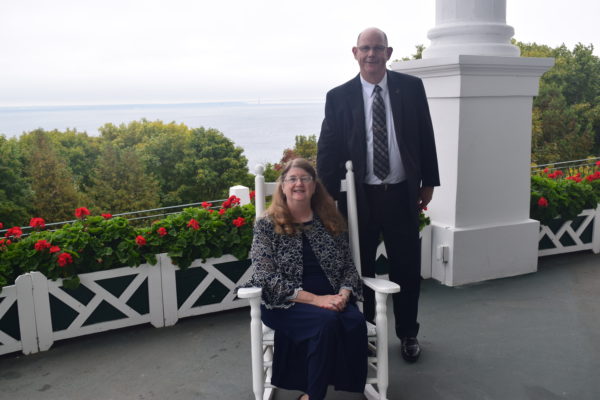 Dear Praying Friends in Christ,
We are finally home long enough to write an updated prayer letter.  We have been blessed with a very busy schedule this year. What a privilege it is to serve our Saviour and teach His Word!
My model trains have been very busy also this year.  We used them for a train revival in Northern Wisconsin and in several Vacation Bible Schools. Five children were saved at one of the Vacation Bible Schools in Wisconsin!   I also used my O scale trains for the last VBS.  The theme at this church was Western this year.  I built a western town out of my American Plastic Bricks.  It even had a ghost town and a cemetery!  I told out-law stories every night such as Billy the Fibber, Light-Fingers Larry, and Pete-the-Sneak.  Who says you can't have fun serving the Lord?
This year we have also been to Florida, Alabama twice, Northern Minnesota, New York, Pennsylvania, and Iowa.  We always thank the Lord for our safety in traveling.   
Our health is doing wonderful.  Mary is getting better every week.  My last medical check-up was great.  My A1-C was 5.9!  This means I have not gotten any worse in four years of being a diabetic.  It pays not to cheat.
This year we also had to do some upgrading on our home. The hot water heater, furnace, and air conditioning unit all had to be replaced.  This is to be expected with a 20 year-old house. 
We have many more churches left to preach in this year. We will be traveling to Pennsylvania, Wisconsin, (several times) Michigan, and Missouri.
We did, however, have to cancel our New Mexico Missions trip to the Navajos this November.  The price of gas and rental car is just too expensive right now.  We are hoping to reschedule this trip for next year.
May the Lord find us all faithful in serving Him as we can.  Please pray for us as we serve Him, presenting our ministry and getting people back into their Bibles!      
In His Service,
David and Mary Barker